About CASA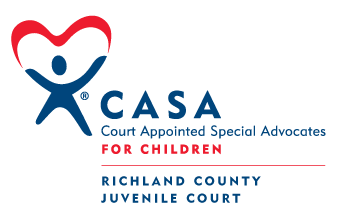 "CASA" stands for "Court Appointed Special Advocate." After being trained by Juvenile Court, a CASA volunteer works alongside attorneys, social workers, family members, and the child to learn about a child's circumstances, then advocates for a child's best interests in the Court. The CASA volunteer continues to monitor the child's well-being and make recommendations for the child's benefit throughout the court case.
Judge Ron Spon began the Richland County Juvenile Court CASA program in 1998 to serve the unique needs of abused and neglected children in our community. As his successor, Judge Steve McKinley recognizes that the CASA program plays an important role in Richland County Juvenile Court's commitment to providing abused and neglected children with safe, stable, and nurturing homes.
Becoming a CASA volunteer is an investment of time, energy, and heart. To become a volunteer or to learn more about this meaningful volunteer opportunity, please call or email.
Director of CASA/GAL Brooke Henwood bhenwood@rcjcoh.us (419) 774-5802
FUNDING FOR THIS WEB PAGE PROVIDED BY VICTIMS OF CRIME ACT GRANT